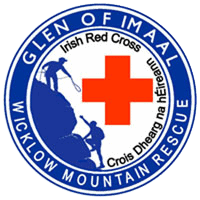 Call Out 45: Kilmashogue 16/7/17
At 16:38 on Sunday, July 16th, Glen of Imaal Red Cross Mountain Rescue Team and Dublin Wicklow Mountain Rescue Team  were tasked to assist a National Ambulance Service (NAS) crew at an incident near Kilmashogue mountain. The NAS crew were tasked to assist a man who sustained an upper limb injury while walking.
Mountain rescue (MR) personnel assisted the NAS crew; treating the injury and providing pain relief. After the man's injury had been stabilised, he was transported in an MR stretcher-capable vehicle to a waiting ambulance. The incident was stood down at 18:12hrs. MR would like to thank the HSE National Ambulance Service for their assistance.