Moonlight Challenge
The Moonlight Challenge is the main fundraiser for the Glen team. Running since 2010, the challenge has become a favourite with many groups nationwide. The Challenge route varies but generally covers 25 to 29km up and over the Wicklow Mountains and all by the light of the moon. Certainly not for the faint hearted! 
Glen of Imaal Mountain Rescue are a team of volunteers who provide a professional search and rescue service, free of charge 365 days of the year. Their rescue base, vehicles, equipment and training are all funded through a combination of grant aid, donations and fundraising events. They rely very heavily on the generosity of donors to maintain the service. 
The Moonlight Challenge is fully supported by the members and friends of the Glen of Imaal Mountain Rescue Team. The route, albeit challenging in distance, is well within the reach of any person of reasonable fitness. A registration fee of €25 per person is required; this will cover our costs for event insurance etc. After that the minimum fundraising target is €75 per person. The Moonlight Challenge is 100% run by volunteers. Which means that every Euro raised by you goes directly to the Team to help them provide this vital service in the hills.
Thank you for your continued support, time and generosity
The Glen Team
How each registered participant helps by giving back to the land 🌳 💚
Over the past two years the Glen of Imaal team have planted over 1300 native Irish Trees in the Glendasan valley,  between Turlough Hill and the old lead mines for each participant who took part in the MLC 2021, 2022. This year we are excited to announce a new project that is possible due to your MLC involvement. We are working with possible sponsors to provide the raw materials in order for us to make bird boxes that will provide nesting sites for the declining Irish Barn Owl. More news to follow..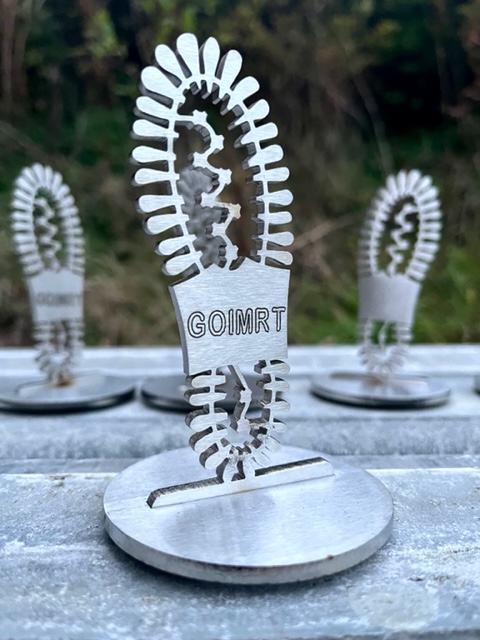 Angela Sweeney Award
Angela Sweeney was one of the founding members of FOG (Friends Of the Glen). She sadly passed away in 2011. To this day we still run the Moonlight Challenge in line with her vision of a fun and enjoyable event, rather than a race. Every year we present the team we feel best demonstrates this vision with the Angela Sweeney Award. All you have to remember is - have fun, enjoy the night and laugh through whatever the mountains and the weather throw's at you.