Craic of Dawn
Saturday April 1st 2023 - Cost: €50pp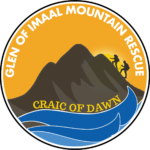 The Craic of Dawn is a fundraiser event run by the Glen of Imaal Mountain Rescue team. It was first created in 2022 in order to help recoup lost funding due to restrictions during covid.
You will find the Craic of Dawn is very different from our popular annual fundraiser, the Moonlight Challenge. The MLC is a tough challenge. It has been running since 2010. It normally averages about 25km, approx 6/7 hours and takes in tracks and trails around the Wicklow mountain's under the light of the moon. It runs either late October or November.
The Craic of Dawn is a different challenge altogether. It was born from the effects of covid and the knowing that most people on the planet had been effected in some way by the pandemic. While the idea of the event was initially introduced to ease funding pressures on the Glen team it was also created with an awareness at a time when restrictions imposed were relaxing and while coming out the other side, a real want for positivity and new growth in moving forward.
The Glen team wanted to create something that could impact positively on people. We felt that the sunrise experience matched with the start of summer time could create the positive impact we were looking for. At this time of the year the Spring flowers and tree buds are all beginning to blossom. The sun is climbing higher into the sky. We are coming out of the winter hibernation months with new exciting plans for growth going forward.
Starting any day with sunrise can lift your spirits. It is known to improve your mood and can bring a great sense of appreciation for the natural world.
It can be a peaceful and inspiring experience that can help you start your day with a real positive attitude
The Craic of Dawn got a real positive response on its first year running in 2022. The feedback and response we got from the participants was amazing. We as a team also got a lot from the experience. Being together again after the restrictions, sharing the experience of sunrise, laughing and chatting together was what we all needed.
Because of this the team decided to make the Craic of Dawn an annual event
The Craic of Dawn averages about 10/12km and will take approx 2/4 hours. This event runs normally around April and the start of summer time.
For more info on Craic of Dawn 2023: CLICK HER