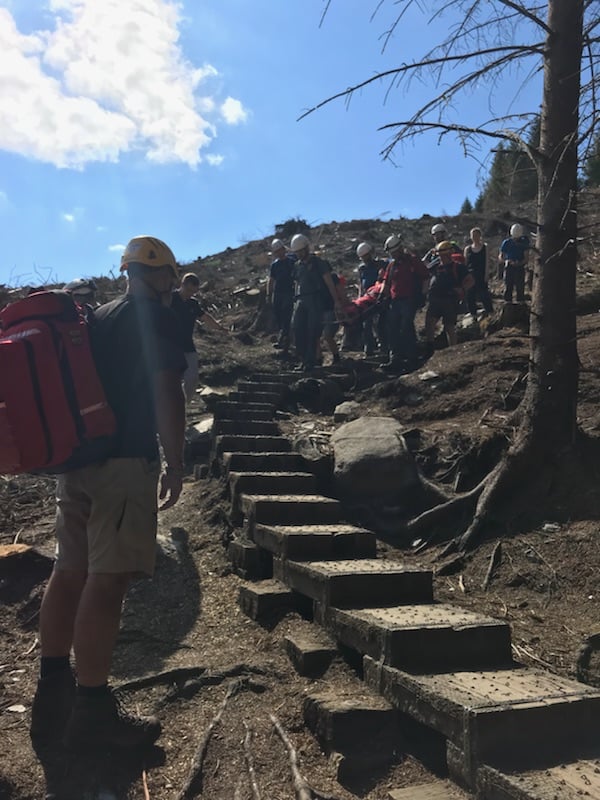 Callout 64 & 65, Wicklow, 04/08/18
Callout 64
At 13:56hrs Saturday 4th August 2018, The Glen of Imaal Mountain Rescue Team and Dublin Wicklow Mountain Rescue Team were tasked by the National Ambulance Service who were on their way to an injured walker in Glendalough.
The teenage boy had fallen and sustained a lower leg injury on the popular spink walk above Glendalough. Mountain Rescue (MR) parties were dispatched to assist. The boys injuries were assessed by MR medics and he was packaged and stretchered down to the waiting HSE ambulance. The incident was stood down at 16:08hrs.
Callout 65
The second callout came at 15:50hrs just as things were wrapping up on the first call. The Glen of Imaal Mountain Rescue Team and Dublin Wicklow Mountain Rescue Team were tasked by An Garda Síochána (AGS) to assist an injured walker on White Hill.
The woman who had been walking with friends had sustained a suspected knee injury and was unable to continue walking. MR parties were dispatched to her location and after her injuries were assessed by the MR medic it was decided to stretcher her down to the road. There she was handed over to the HSE ambulance who transported her to hospital for further care. The incident was stood down at 17:53hrs