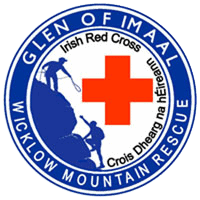 Call Out 42: Glendalough 5/7/17
At approximately 14;00 on the 5th of July National Park staff in Glendalough were made aware of a young man who was unwell by the side of the upper lake. A member of staff who is also a volunteer with Mountain Rescue went to the aid of the man. He had been swimming in the lake when he became unwell and two of his friends had helped him from the water.
Even though it was a warm summer's day the young man was severely hypothermic after having swum in the cold water of the lake. He was wrapped in a warm casualty blanket and stretchered a short distance by Mountain Rescue personnel to a waiting ambulance and transported to hospital.
Mountain Rescue would like to thank Wicklow Mountains National Park staff and the HSE National Ambulance Service for their assistance.