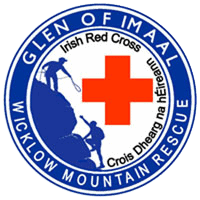 Call Out 41: Three Rock 2/7/17
At 13:40, Sunday 2nd July, An Garda Síochána tasked The Glen of Imaal Red Cross Mountain Rescue Team and Dublin Wicklow Mountain Rescue Team to come to the aid of a woman walking on the Wicklow Way in the Three Rock area, who had sustained a lower leg injury and was unable to continue walking.
Using SARLOC technology Mountain Rescue determined her location and personnel were dispatched. Her injury was assessed and treated on scene, then evacuated in an MR vehicle.
The incident was stood down at 15:50.