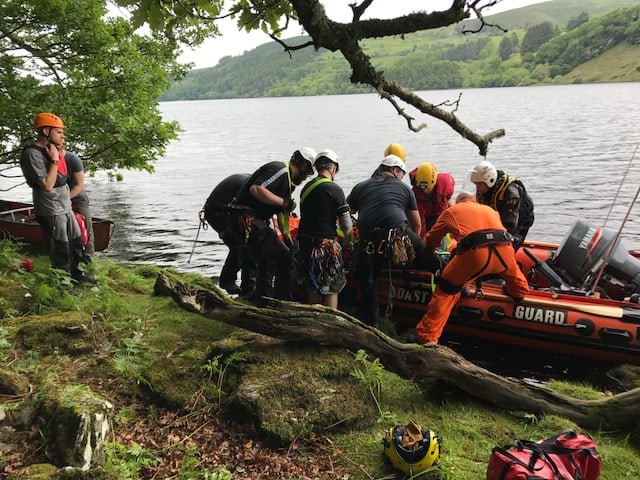 Call Out 34: Lough Dan Rescue 28/5/17
At 12:34hrs on Sunday, May 28th,The Glen of Imaal Red Cross Mountain Rescue Team and Dublin Wicklow Mountain Rescue Team were tasked to assist Irish Coast Guard Rescue 116 with an incident near Lough Dan.
Rescue 116 had been tasked to assist a man who fell on steep ground while walking near the lake shore. Due to tree cover at the incident site, the helicopter was unable to airlift the man. Mountain rescue personnel assisted by moving the patient, in a stretcher, to the lake shore and transferring him to a Greystones Coast Guard Unit boat. The man was transported by boat across the lake and then on for further medical care. The incident was stood down at 15:43hrs.
This incident required a multi-agency response, and mountain rescue would like to thank Irish Coast Guard Rescue 116, Greystones Coast Guard Unit, HSE National Ambulance Service, Wicklow Rapid Response, An Garda Síochána,Lough Dan Scout Center, local people and private landowners for their assistance during this incident.